Information relating to Covid-19
PARISH COUNCIL MEETINGS
Parish Council meetings are currently taking place remotely on Zoom.
————————————————————–
NATIONAL LOCKDOWN JANUARY 2021
From Wednesday 6th January 2021 England is in a national lockdown. You must stay at home. You must not leave or be outside your home except where necessary. The rules around the national lockdown can be found on the Government website:-https://www.gov.uk/guidance/national-lockdown-stay-at-home
————————————————————–
HIGH COVID ALERT IN ESSEX
From Saturday 17th October 2020 Essex moved to a High Covid alert. the following infomration has been provided by Maldon District Council and Essex County Council in relation t0 this:-
Video from the Director of Public Health Dr Mike Gogarty https://www.facebook.com/essexcoronavirusaction/videos/391629298512340/
Video by Cllr Spence responds to a number of questions relating to funding and explains that at present ECC would not receive any extra funding for moving the county into high level restrictions. https://www.facebook.com/essexcountycouncil/videos/1287458511586815/
Maldon DIstrict Council has updated its website which has some useful information including 20 FAQs collated by Essex CC
Quote from the Leader
Cllr Elaine Bamford, Leader of Maldon District Council, said; "This decision was not taken lightly by any Essex leader and was based on professional medical advice to prevent escalation of the virus and the possible consequence of overwhelming hospitals with Covid 19 patients. Ultimately, of course, to save lives. The concern was leaving action too late even though the evidence of infections may not be as high as other areas of the UK. The importance of following the Government guidelines cannot emphasised enough, particularly with regard to using face coverings, (although it is appreciate some are exempt), keeping 2 metres away from others not in your household or support bubble and frequently washing hands. I am confident residents and businesses of Maldon District will be responsible and our Council officers and members will continue to help and support you all, as much as we are able."
The poster and social media statement below provide further explanation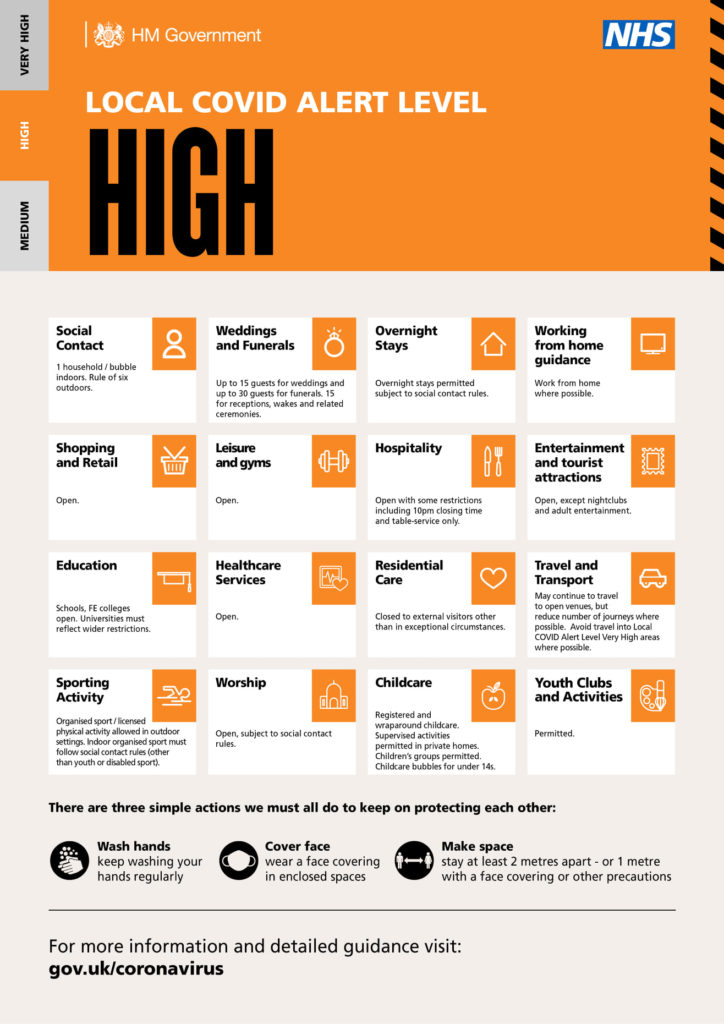 Social Media Announcement
To ALL Essex Residents,
In a move to slow the current rates of infection across our county, from Saturday, Essex will be placed into the high level of restrictions (tier 2 on the new COVID
system).
What does this mean?
No household mixing indoors – this includes at home or in hospitality venues
Different households can meet outdoors in public spaces but must stick to the 'Rule of six'
10pm curfews will remain in place for all pubs and restaurants
Remember hands, face and space
Reduce travel where you can
If we act now, we can stop the spread and protect our loved ones as we head into the winter months.
Detailed information on the new guidelines is available here:
www.essex.gov.uk/coronavirus
Please be advised, the Government's decision applies to the Essex County Council
area and NOT the #Southend and #Thurrock Council areas.
————————————————————–
COPING WITH THE NEW NORMAL
The Essex Association of Local Councils has issued the leaflet below to provide infomration about coming out of lockdown.
————————————————————–
BENEFITS AND SUPPORT
The Department for Work and Pensions has issued the following letter about claiming benefits and support.
————————————————————–
STAY AT HOME, GROW YOUR OWN
To support the wellbeing of Maldon District residents, Maldon District Council and Abberton Rural Training (ART) are working in partnership to bring a new community initiative to encourage residents to 'Stay At Home, Grow Your Own'. For more information go to Maldon DIstrict Council's website here
————————————————————–
COMMUNITY GUIDANCE
Maldon District Council has complied a pack providing information, contact and support for communities to assist with dealing with issues arising from the Covid-19 pandemic. The pack is attached below.